TMR TREK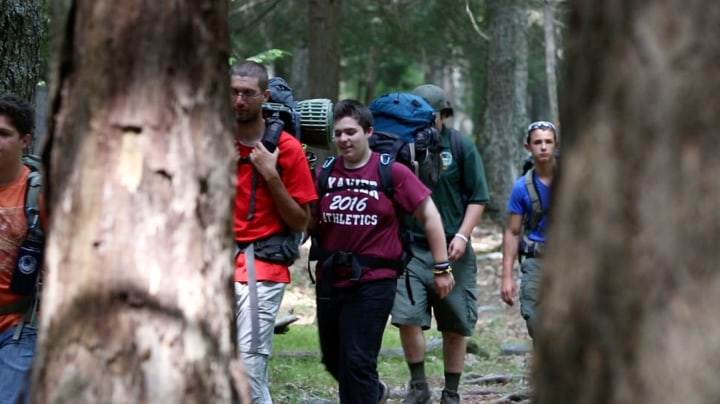 Wilderness, backpacking, canoeing, scouting, and adventure. In one of the most invigorating, challenging, and memorable experiences that Ten Mile River has to offer, the High Adventure Trek has no equal. For the last two years, TMR has built one of the best trek and 50 Miler programs available, and is rapidly becoming the Philmont Scout Ranch of the Northeast.
With a great sense of history and tradition, today we have a program that is specifically designed for the older youth who has "done it all." Those who are willing to accept the challenge will have the opportunity to experience TMR and Scouting in a very different way. They will be able to backpack along the historical and beautiful Red Dot Trail, canoe on the Delaware River, rappel from the Indian Cliffs, learn and use many skills in orienteering and the outdoors, participate in a C.O.P.E. course and much more. Participants will see and visit parts of the reservation that few know about, and at the end will be able to challenge themselves as individuals and as a group in completing the various stages of the Trek.
Program Details

Who:

Experienced Scouts and Venturers who will be 13 years old by their camp session.

When:

Week 1, July 07 – July 13, 2019

Week 2, July 14 – July 20, 2019

Week 3, July 21 – July 27, 2019

Week 4, July 28 – August 03, 2019

Week 5, August 04 – August 10, 2019

Week 6, August 11 – August 17, 2019

Week 6, August 18 – August 24, 2019

Where:

Outposts are set up in areas all across the TMR Scout Reservation

How Much:

See the Camp Fees page for full details
Regular Price $475 Pay by May 31st Price $445
Your Trek can select from the following outposts this season:
· Target Paintball
· Mountain Boarding
· Fishing
· Tomahawk Throwing
· Indian Cliffs natural rock rappel or climb
· Canoeing or Kayaking on the Delaware (See below for additional fees)
· Horse Program (Merit Badge can be offered, additional cost per person per day).
Each trek that goes out will have the option to select which outposts they would like to visit and our trek staff will help them put a customized experience together to ensure their goals are met.
Treks can plan for the 50 Miler award in any combination of hiking and boating down the scenic Delaware River. There is an additional charge of $30.00 per person per day for canoe and $32.00 per person per day for Kayaks that includes boats, paddles, PFD's and transportation to and from the riverside.
Food is provided so that your group can cook on the trail at your own pace. Our friendly staff will check you in as you reach each outpost along your designated trek and provide program support for your selected activity.
Two leaders are required for each Trek and free leaders are tabulated according to the Free Leader table. We look forward to meeting you on the trail at Ten Mile River Scout Camps this summer!
Trek Highlights
50 Miler Award
A great objective for the participants of any Trek is to earn the 50 Miler Award. At the conclusion of your trek, participants will be eligible to earn this award.

Advancement
Over the course of the trek, participants will learn about backpacking, wilderness survival, climbing, rappelling, and orienteering skills and may be able to complete or earn partials in these merit badges. The program and advancement will also work well for Venturing units.

Requirements
To sign up for the trek, your unit or crew must have two adult leaders and 5-12 trekkers depending upon the type of trek. Participants must be 13 years old by camp, and Boy Scouts must be First Class Rank.

Your Trek Schedule and Reservations
Reservations for treks must be made 90 days in advance of the trek start. The day-to-day schedule of the trek is agreed upon between leaders of the trek and TMR Trek staff. Trek leaders should contact Camping Services at least two months before coming to camp to arrange the details of their trek. The Trek Director will help you in planning your trek program.

Provisional Trek
For those units without leaders able to bring their group to a trek, during weeks 2 and 3, TMR will build provisional Trek units and will provide them with the necessary leadership. For the provisional treks, unit leaders must make the necessary arrangements well in advance through Camping Services.