Keowa: Area- Shooting Sports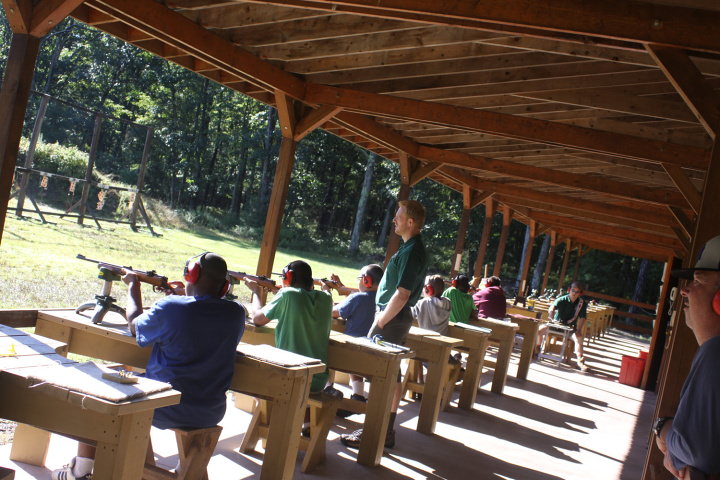 The Rifle Range is always one of the most popular places in camp. It is not only fun, but completely safe, and supervised by the fully qualified staff. We offer two merit badges; Rifle Shooting and the Shotgun Shooting. Both fun and exciting - but require much practice and skill.
Be advised, regulations require us to impose an age requirement of 12 years of age in order to shoot at the Range. Furthermore, due to risk of physical injury due to recoil, the Area or Program Director may impose a more advanced age requirement in order to shoot the Shotgun. This will be left up to the discretion of the Camp Keowa Staff. Please see the Director for more information!
Advancement Programs:
Merit Badges
Rifle Shooting: Scouts will learn the safe handling and operation of .22 caliber rifles as well as develop and perfect their shooting ability. Scouts will shoot at BSA targets on our range in an attempt to qualify for the merit badge. In addition, our staff will offer instruction with regards to cleaning, maintenance and regulations of firearms. *AGE LIMIT: 12 and up*
Shotgun Shooting: The Shooting Sports staff will teach your Scouts to safely handle, and operate a 12-gauge shotgun. Scouts will be required to demonstrate knowledge of safe handling, cleaning and storage procedures as well as perfect their shooting ability as they attempt to qualify shooting clay pigeons launched from our trap. *AGE LIMIT: 13 and up*
Camp-wide Programs:
Open Shoot: Offered every day from 3:00 to 5:00pm, open shoot is a chance for all scouts, ages 12 and up, to get some time and practice with our rifles on the range. Merit badge students have a chance to continue their qualifying attempts and those Scouts who aren't taking the merit badge can get some hands on experience and practice! Please Note: Due to the cost of ammunition and clay pigeons, we are unable to offer Open Shoot for the Shotgun most weeks.

Leader's Shoot: Calling all Leaders! Come down and compete in our Leader's competition! The winner will be presented a prize at their week's Closing Campfire! Competition is always fierce and the rules are a little different from our other competitions. See the Area Director for details!

Camp-wide Games: It's the best each Troop has to offer up against one another! Test your abilities as a marksman in our legendary shooting competition!