Ten Mile River: Specialty Camps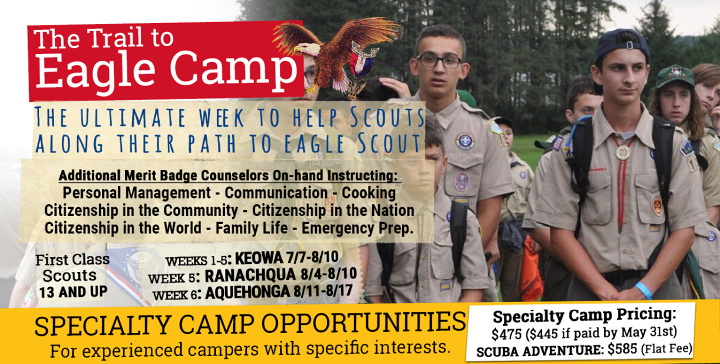 The Camp Ranachqua DIY 9-5 program aims to develop hands on skills and a greater understanding of the STEM fields. Scouts will be introduced to practical applications with a balanced focus on both Do it Yourself fixes and career skills.
Opportunities for Merit Badges will include:
Engineering
Welding
Plumbing
Automotive Maintenance
Robotics
Composite Materials
Digital Technology
Ranachqua 7/28-8/3
To register for STEM Week, click HERE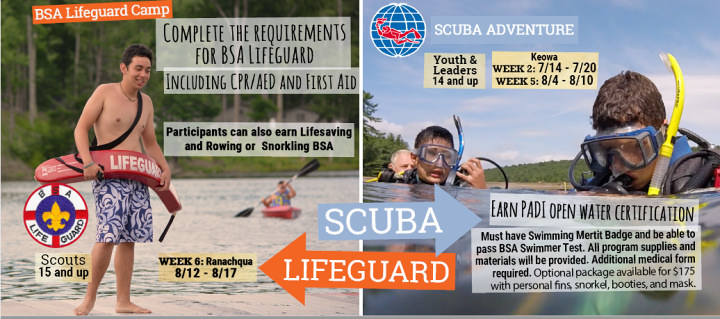 Lifeguard Certification Camp

SCUBA Adventure Camp

Earn a complete Lifeguard Certification including CPR and First Aid in one week of Summer Camp.

Program Includes:

PADI Open Water Diver Certification
Off Site Transportation
4 Open Water Dives

August 12-17

July 14-20 or August 4-10

At Camp Ranachqua

At Camp Keowa

Youth and Leaders 15 and up

Youth and Leaders 14 and up

Scouts will earn Lifesaving and may also work on Rowing or Snorkling BSA

Required Additional Forms Include

To register for Lifeguard Certification Camp, click here

To register for SCUBA Adventure Camp, click here

Want to try something out of the ordinary? Are you now an experienced camper and are looking for new and exciting adventure? Well, our Individual and Group Adventures are your opportunity. Enjoy our ATV Training Program. How about the world of Horseback Riding? Have a chance at trying a sport that truly gets your heart racing. Perhaps you'd like to earn the Horsemanship Merit Badge? Through this program, you can also earn the merit badge! How about putting your limits to the TEST? Try our Provisional or Unit High Adventure Trek. This program can be completely customized to the interests of your Scouts. Hike for 50 miles and participate in several camp high adventure programs. How about a hybrid of hiking and canoeing down the gorgeous Delaware River? Totally possible and waiting for you to book the adventure.
For further information about the cost of these camps, please refer to the Camp Fees page for more information.
| File Name | Description | |
| --- | --- | --- |
| 2019 Camp Aquehonga Leaders Guide | | Download |
| 2019 Camp Aquehonga Merit Badge Schedule | | Download |
| 2019 Camp Keowa Leaders Guide | | Download |
| 2019 Camp Keowa Merit Badge Schedule | | Download |
| 2019 Camp Ranachqua Leaders Guide | | Download |
| 2019 Camp Ranachqua Merit Badge Schedule | | Download |
| 2019 TMR Complete Leaders Guide | Comprehensive guide to everything about Ten Mile River camps. | Download |
| 2019 TMR Merit Badge Prerequisites | | Download |
| 2020 Ten Mile River Summer Camp Brochure | | Download |
| Aquehonga Daily Schedule | | Download |
| Directions to TMR | Come find us! | Download |
| Keowa Daily Schedule | | Download |
| Landers River Trip Liability Release Form | | Download |
| Payment Schedule and Refund Policy | | Download |
| Program Fees and Dates | | Download |
| Project LEAF Leaders Guide | | Download |
| Ranachqua Daily Schedule.pdf | | Download |
| SCUBA Medical, Agreement & Statement Forms | | Download |
| TMR Bear Form | | Download |
| TMR Maps | Find your way around! | Download |
| TMR Medical Form | TMR Expanded Medical Form | Download |
| TMR Merit Badge Selection Sheet | | Download |
| Trek Hold A Place | | Download |
| Unit Pre-Medical Recheck Checklist | | Download |
| What to Bring Checklists | | Download |